The Path We Took
THE PATH WE TOOK is a game about
relationships, balance, and communication.
During the game, you will play partners embarking on a
life-changing relationship, full of memorable moments,
trying tensions, and admirable accomplishments.
Your couple may experience hardships and the relationship
may end at some point, but the journey is a story that will
live on forever.
About the Game
THE PATH WE TOOK is a narrative game that uses dominoes to help players create the story of a couple, starting at their meeting and moving through the days, weeks, or years of their budding relationship.
This is a game for 2 players and requires access to a full set of double six dominoes. If you do not have a physical set, you can download and print a free set of domino cards. If you want to play online, you can upload the digital versions of the domino cards to the platform of your choice. Cards provided are made to work with Roll20's Card Deck tool.
Content Warning: This game deals with topics of relationships, romance, and sexuality, possibly including dating, cohabitating, trust issues, lying, cheating, breakups, and families. There is no predicting content in this game; everything you will discuss and create will be of your own making. Safety advice and links to existing safety tools is provided.
DIY Booklet
If you'd like a physical version of the game rules, you can print it using the "Booklet" option found in most PDF reader software. Your printer must be able to print on both sides of the paper to do this. I also recommend a bone folder and long arm stapler to make it extra nice, but these are optional.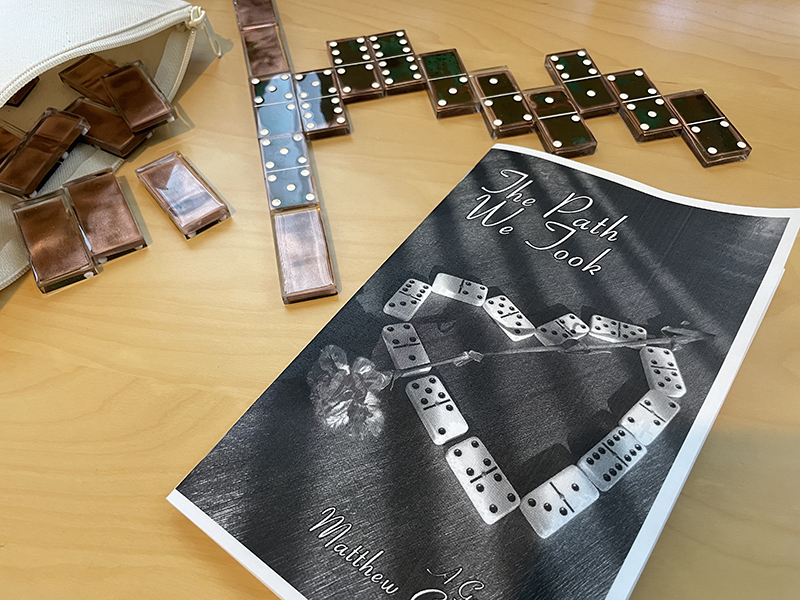 Actual Plays
If you have played The Path We Took and shared your experience in a video, blog post, Twitter thread, or similar and would like to be featured here, please let me know! Send me a message here or DM me on Twitter @mrmatthew.
Annotated Versions
For those interested in a behind-the-scenes look at the making of this game, the "annotated" versions of the game include page-by-page commentary from the designer about choices made, the design process, and what the intent for each section was. Perfect for extra entertainment or for game designers new and old to get a deeper understanding of how this game was made.
Thanks
Thank you to members of the Possum Creek Games Discord server for helping me work through some issues with this game and, by extension, thank you to Possum Creek Games for creating an amazing community of creators and gamers, and welcoming me in.
Purchase
In order to download this game you must purchase it at or above the minimum price of $5 USD. You will get access to the following files:
The Path We Took - Singles.pdf
1 MB
The Path We Took - Spreads.pdf
1 MB
The Path We Took - Singles - Annotated.pdf
1 MB
The Path We Took - Spreads - Annotated.pdf
1 MB
Exclusive content
Support this game at or above a special price point to receive something exclusive.
Community Copy
If you are experiencing economic hardship, especially as a result of being part of a marginalized group, you are encouraged to download a free Community Copy. Games are for everyone. If there are no Community Copies left, you can message me directly for a free copy, no questions asked.