Tapestry Junior
Hold all worlds and all stories in your hand with this simple and evocative game.
What is Tapestry Junior?
Tapestry is a blank slate, a fresh canvas, a new page on which to write any and all stories. It is a storytelling game with simple rules and shared narrative control among all players. It is free of any themes or settings and instead relies on intuitive word association to drive the game. Similar to tarot or oracle cards, the game uses simple prompts which, when combined with the players' imaginations and desires, magically turns into a rich story full of wonderful characters, intense action, and beautiful scenery.
Tapestry Junior is the same great game but with simplified rules and card prompts. Inspired by my six-year-old, these cards allow anyone to experience the fun of interpretive storytelling without the extra flowery words. Tapestry Junior is perfect for kids, families, or anyone looking to have a more casual gaming experience.
What do I Get?
This digital edition of Tapestry Junior includes the following:
Card sheets for at home printing, including card fronts, card backs, and blank cards to fill in yourself. Includes files for single- and double-side printing. You'll need to provide 12 tokens for physical play.
Roll20 compatible files for creating virtual decks, including faces and back.
Digital rules in both screen reader as well as printable accordion booklet.
Physical Version
You can play Tapestry Junior entirely digitally as well as print components for your own mint tin version, but if you'd like to get a completely produced version of Tapestry Junior, you can do so on The Game Crafter. Physical versions come complete with a mint tin, wooden tokens, rule booklet, and high-quality cards with linen and UV coating.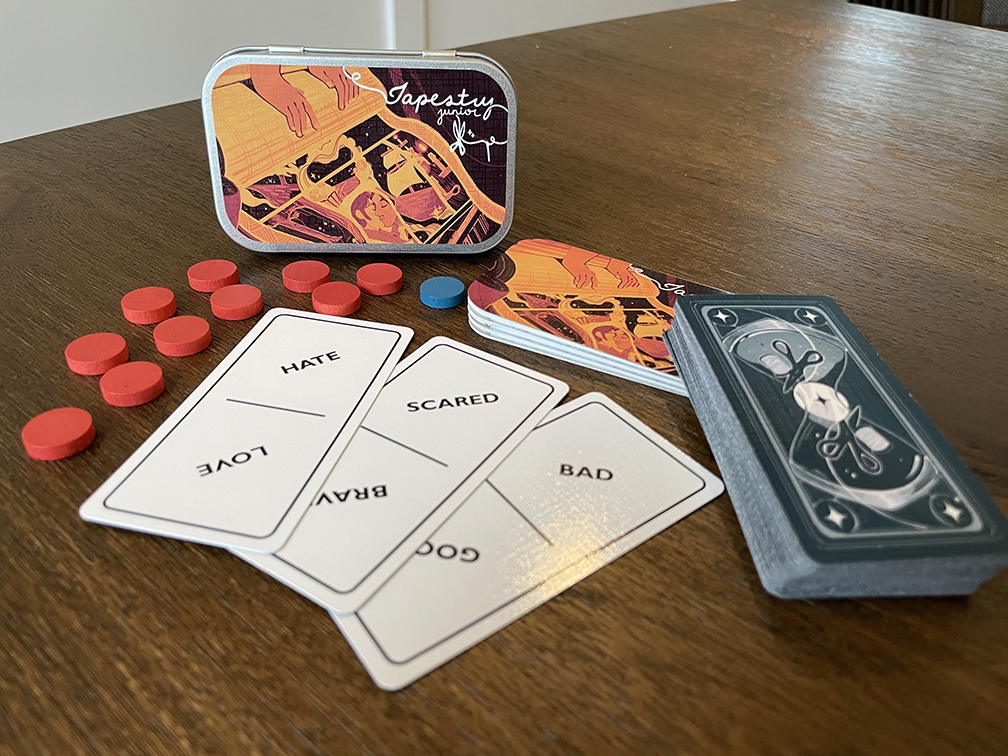 Want More?
Check out the original Tapestry for more elaborate prompts and a number of new expansions to add to any Tapestry deck.
Tapestry Junior was created by Matthew Gravelyn, edited and playtested by Jon Boyle, and features art and design by Alex Perkins.

Purchase
In order to download this game you must purchase it at or above the minimum price of $10 USD. You will get access to the following files:
Tapestry Junior - Digital.zip
1 MB
Exclusive content
Support this game at or above a special price point to receive something exclusive.
Community Copy
For those who are experiencing economic hardship, especially as a result of being part of a marginalize group, you can download a free copy of Tapestry here, no questions asked. I will be adding more community copies here for every copy of the game sold at full price.