Clever Girl
You are the last surviving person in Dinotopia, a dinosaur theme park ravaged by escaped predators. You don't know what caused the incident that set the dinosaurs free, but it was catastrophic. A pack of highly intelligent and oddly fixated raptors have your scent and are hunting you. Everyone has either escaped or become prey. You are alone.
Clever Girl is a game about the extraordinary lengths a person will go through to survive in the face of crushing odds and terrifying circumstances. It is a game about loneliness, fear, and the will to live.
You play the solitary survivor of a devastating failure of park security. The dinosaurs are loose. You've seen people torn apart by merciless killers and trampled by herds of colossal beasts. You may not have done any killing yourself, but you certainly caused deaths in your haste to find shelter. Who might still be here if you had just stopped to help?
You are now alone, subsisting on breakroom leftovers and adrenaline, recycled water and desperation. It is all you can do to wake up each morning and keep trying.
Clever Girl is inspired by the book Jurassic Park written by Michael Crichton and the movie of the same name directed by Steven Spielberg.
—
Clever Girl was made as part of the Wretched & Alone game jam using the Wretched & Alone SRD. The Wretched was created by Chris Bissette.
—
Community Copies are available for those experiencing economic hardship. For every copy of Clever Girl sold at full price ($5 or more) a free copy will be added for those who cannot engage with Clever Girl due to economic hardship, especially as a result of being part of a marginalized group.
—
Susanah (@SusanahGrace) and Charlie (@MusesAreGhosts) did a cooperative play through that they posted to Twitter by taking turns responding to prompts with their individual characters. To check out the entire play record, start here.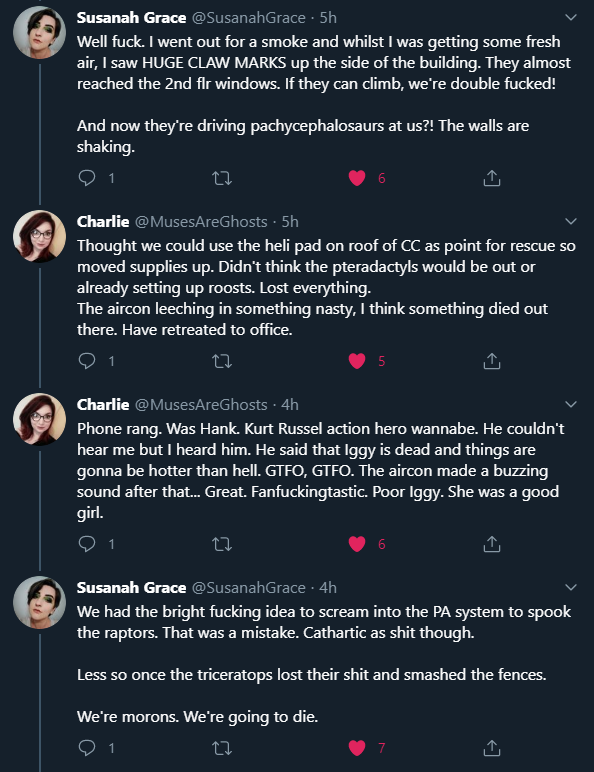 —
"The game certainly captures the tense ambience of Jurassic Park, and is bound to be popular with fans who are looking for something they can do at home currently." - Jurassic Park Podcast, June 27, 2020.
Purchase
In order to download this game you must purchase it at or above the minimum price of $5 USD. You will get access to the following files:
Clever Girl - Digital.pdf
450 kB
Exclusive content
Support this game at or above a special price point to receive something exclusive.
Community Copy
This is for those who want to engage with Clever Girl but the cost would cause financial hardship. For every copy of the game purchased at full price, a community copy is added for those who need it. Please take advantage of this if you need to, no questions or judgement.